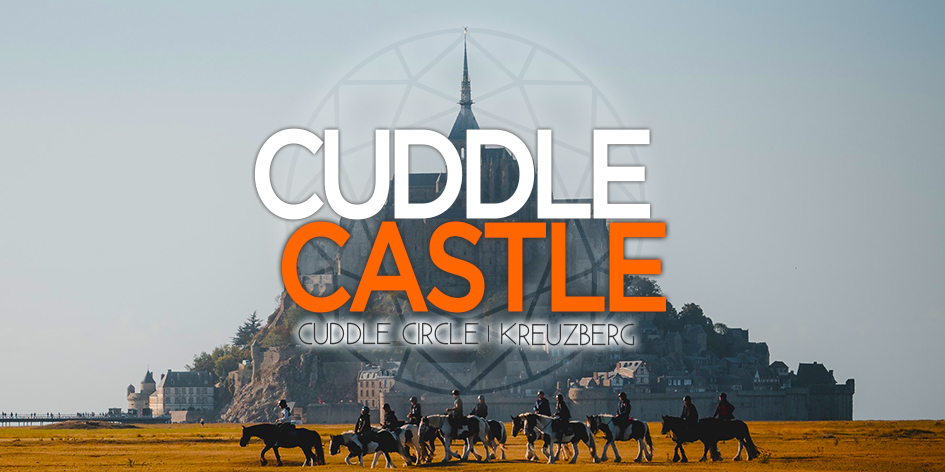 We humans are group animals.
In this precious ⭐️CUDDLE CASTLE⭐️ Joe & the Angels are teaming up with you (and your favourite humans) to co-create another magical gathering for deep relaxation, play & flow states.
WHEN?
On sunday evening, 14.05.2023, at 19:00 – doors open 18:55 |  The Cuddle Castle finishes arround 21:50
WHAT?
We invite you to a guided cuddle friendly space: A human-/emotions-/body- & connection-positive event full of bodily expression, sensual exploration and natural happiness.
1. WARM-UP First, we'll start with a few connection, boundaries & attunement exercises to harmonize & warm up with ourselves & the amazing people present.
2. STARTING TOGETHER Then, we'll go into giving & receiving play and explore various & deeper connections & release practices within the group.
3. OPEN PLAYGROUND the last part of the evening is reserved for free flow- Bodily bliss and shared ecstasy are our birth right. Be ready for pleasant surprises in the very moment, that want to emerge consensually.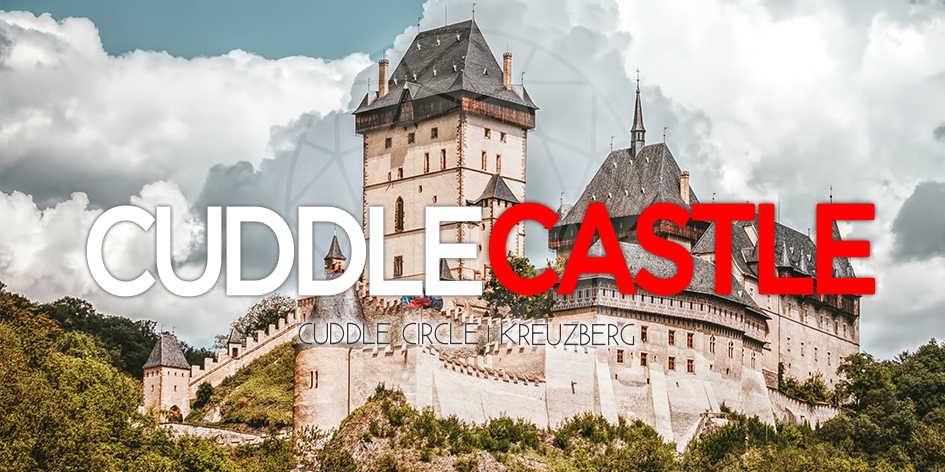 SETTING
All parts of the evening are optional. You can involve yourself or pause, detach, be by yourself at any moment. We will enjoy each others company in a cozy sky view appartement close to Görlitzer Park, Berlin. A comfy loungefloor, a calm balcony. , several lounge and play areas, a bar & buffet to stay hydrated and enjoy a variety of vegan snacks & dishes plus lots of space for your choice of activity – give & receive sensual, healing touch, celebrate your kinkyness, adult pleasures… you name it.
You will have the opportunity to take an open air shower with a skyline view, if you feel like it. 
What will it be this night for you? Sensual journeys, a full-blown energetic experience, deep eyegazing, soul talk.
Our invitation is to have an gentle night of blissful relaxation, heartfelt encounters, soothing touch, exploring platonic love & bliss or all of the above!
CODE OF CONDUCT
To have us all enjoy the most access to our natural sensuality this event is sober, smokefree & conscious.
Non violent communication is invited at the event
This is a consent & self-responsibility based event. Adhering to that is the basis of your participation. Transgressions will lead to expulsion from the event.
Impeccable personal hygiene is another participation prerequisite. Also we request you test & take care of your health & especially your skin health on a regular basis.
Treat the space & each other with care and respect – the luxury of the venue demands common sense reverence
HOW TO JOIN?
Apply for your spot by via Text/PM to www.t.me/JoeJung. Recommendations by other participants increase your chances of being able to come join.
You will then receive an answer message as soon as possible.
This Cuddle Castle is designed for beginners & intermediate visitors.
A positive attitude towards human bodies, self-responsibility, social awareness is a healthy foundation.
If you are new to this, check with us for claryfing if you are a match.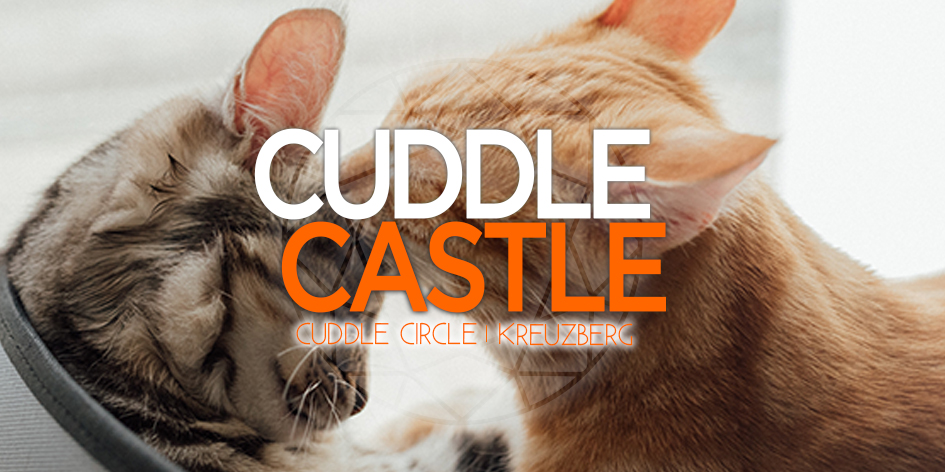 In this Cuddle Castle space experience we will go on a blissful journey through a remarkable, unique evening. Be prepared for epic & tender hours of happiness
To be best set up we request all participants to supply the following
TICKETS
We have made it a dedication to make this temple experience as affordable as possible. Apply early to reap the benefits of this.
🎫 Solo Tickets 24Eur per person
🎫 Duo/TrioTickets 18Eur per person
🎫  limited amount of Helpertickets
Payment is cash on location.
Your reservation is binding.
No refunds possibe, to make sure organizational costs can be covered.
BRING THIS LIST
• comfy, movement friendly clothing, potentially 2 sets
• non-alcoholic drink &/or a vegan (=100% plantbased) snack or dish to nourish yourself and to share with others
• mint/deodorant of your choice
DRESSCODE simple, cozy, comfy & clean
LOCATION Berlin, Kreuzberg, near Görlitzer Park. Further details will be shared upon approved application
Looking forward to seeing & feeling & playing with you all
We offer a select number of Cuddle Castle SPECIALS – varying each time – this may include
• Breath Work Session
• Touch Training
• Playfight
• Consent & Presencing Games
• Shibari
• Bonding 
• Blindfold Experiences
• Nonverbal spaces
• Deep Talk
• Roleplay & Theatre workshop
• Energy Training
• Story telling time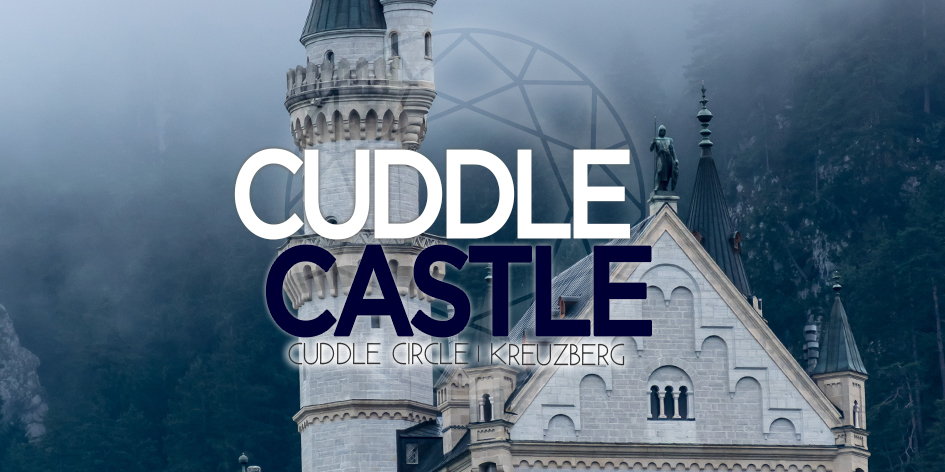 BACKGROUND DETAILS
What is so special about Cuddling?
Before the rise of modern industrial society & even the agricultural phase of human history, we humans were using nonverbal, touch  and bodily communication to sooth each other, maintain our emotional & social health.
Conscious connection, intentional gatherings & co-creative circles of shared experience & community are central to persona peace & social coherence. For a predetermined time ranging from several hours to sometimes several days we gather in a special space – and go on an exploratory journey into the infinity of the present moment.
Some of these Cuddle Castle spaces are soft & healing … combined with gentle singing or meditative prayer,
some  are oriented more to dynamic and transformative practices like animal locomotion & catharthic experience &
some are designed to enter a state of realized paradise others just to relax.
Subconsciously the healing effects of nonverbal touch spaces are present in many elements of modern progressive & conservative culture
like music festivals, sports events, yoga & embodiment trainings
and here – in this Cudddle Castle evening – we are consciously co-creating it by opening a beautiful space & bringing various exciting, healing and peaceful elements together consent practices, bodypositivity, emotion & needs awareness, angel crew to name just a few.
Welcome to another renaissance of humanity's high culture!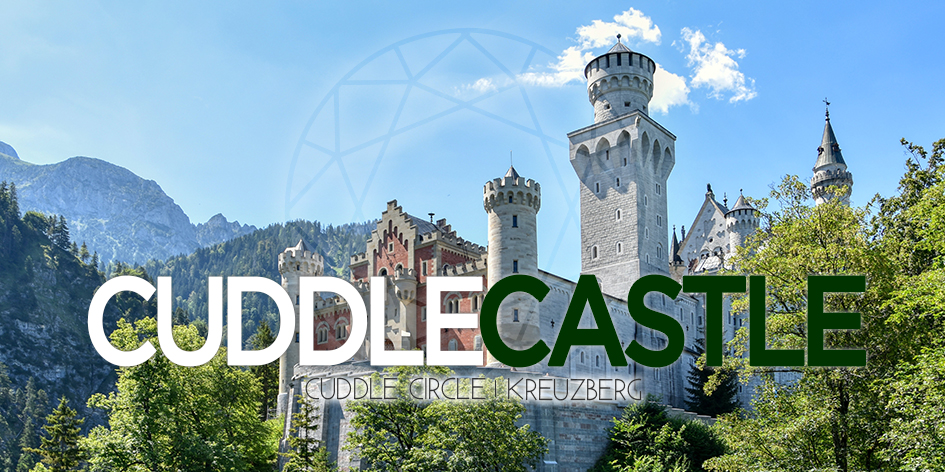 THE ANGELS
Making a cuddle experience magical, is an artform. Be prepared for magic.
Some ingredients for it to work out are bringing the right people together, a cocreative, kindhearted, playful, sensual, self-responsible mindset of the participants, a great location & it's managers, all kind of amazing, inspiring specials & surprises, great facilitators & organizers … and especially THE ANGELS!
These are the supporters and helpers taking care of all the moving parts that need attention before, during & after the event. In addition to some of these behind the scene actions angels are also present & active in the actual temple experience. They are there to look after everybodies wellbeing, assist practically or emotionally where needed, offering their special angel skills, simply being with you with a welcoming smile or a shoulder to lean on.
The angels will be introduced in the beginning. They might gently initiate an interaction with you, but moreso please know that you can always reach out to the angels, when this will assist you.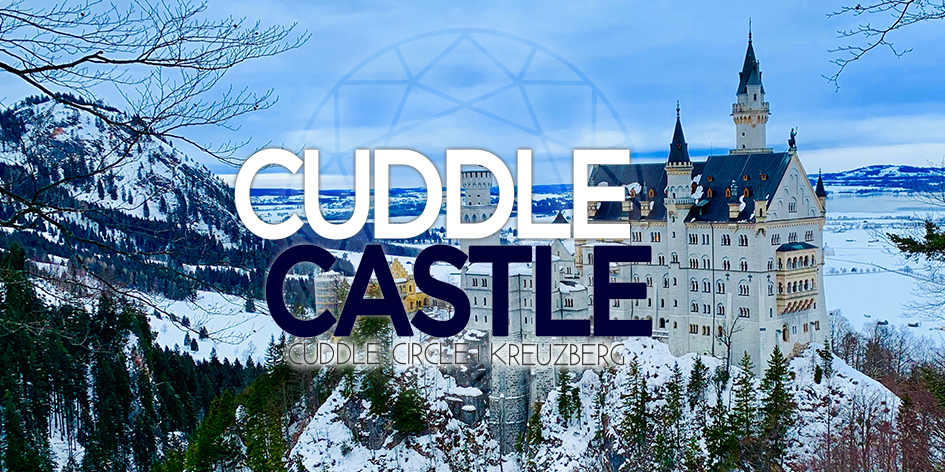 VISITORS VOICES
I love the anticipation of joining the evening, I love the gentle, fun & kind guidance & experiences during the evening. I love the afterglow of the group vibe. Thx for making this happen.
I was a bit nervous, going to an event where I might potentially touch not only my partner, but friends and even strangers. But the moment I arrived, my body intuitively relaxed – I felt at home & I could just explore and enjoy curiously like in a safe playground. I feel nourished & happy now.
I really like the fact that we can come together in these evenings & enjoy human connection, no matter how full my week was, how many things are on my to-do list. Just diving peacefully into a few hours of kindness & paradise.