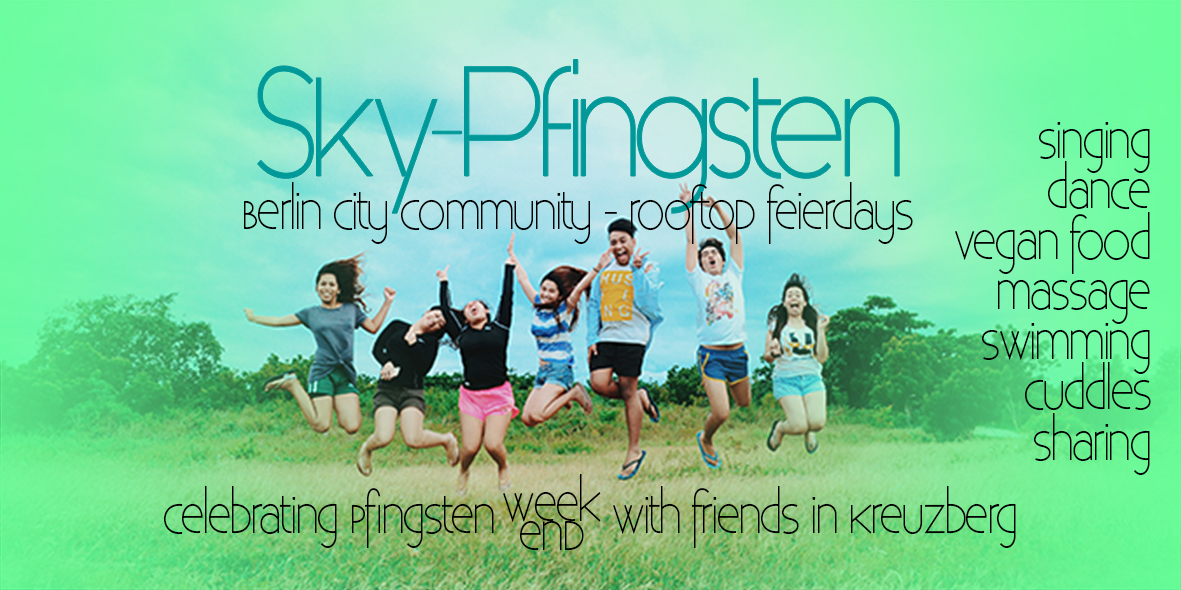 Hey lovely Berlin friends & community
What an amazing springtime!! So great to enjoy this amazing city & people in all it's glory & splendor!
This weekend | 26.5-29.5 2023 | we will spontaneaously use the holidays as a great opportunity for coming together as friends, community, human fammily, a big Berlin tribe – for all who fit our circle, are in the city during the time & are up for kindness, fun and playfulness.
Thanks to a Dear & generous friend we have the gift of enjoying Berlin in and outside of a beautiful Rooftop Appartment in the Heart of Xberg, close to Schlesisches Tor.
3+ days of togetherness, play, rejuvenation, presence & connectedness
There will be free vegan potluck brunches,
rainbow open air showers,
several exciting Workshops like Cuddle Castle, singing circle, Massage Evening, a healing arts class, "authentic relating meets radical honesti meets NVC" playground…
Also cool external events are happening, that we will join together: Ecstatic Dance, Playparty at Bodywork Bazaar, Acro fest berlin  
ALSO: We have a lomi massage professional on location, who is taking reservation for 90Minute Massages on location. Make your reservation
and be prepared for a few more exciting special surprise specials.
Preliminary Time Table / Voraussichtlicher Zeitplan
FRIDAY
16:00 Preparation & Setup
19:00 Temple Night (extern) or Spiele/Film/Vorlese Abend
SATURDAY
8:00 River Dip
9-12:00 vegan potluck Brunch & CookOut
13-14:00 River Dip
15-17:00 Heart Meditation
19-22:00 Ecstatic Dance (extern)
20:30 Cuddle Castle
23:00 Pyjama Party & Story telling Night
(SleepOver option available)
SUNDAY
8:00 River Dip
9-12:00 vegan Potluck Brunch & CookOut
12-16 City Ausflug
17:00 MassageAbend
19:00 Acro Fest Berlin Klasse (extern)
20-23:00 Play Party (extern)
(SleepOver option available)
MONDAY
8:00 River Dip
9-12 Vegan Potluck Brunch & Cookout
13:00 Sharing & Farewell Circle
All offers are optinal. Praticipation at your own choice. Taking time outs is completely welcome. There is a lot of space to chill, relax and enjoy with the group or by yourselves
HOW TO JOIN
The vegan potluck lunches 9-12:00 are free for everybody. Just bring some tasty vegan food and enjoy the morning with us
To cover some costs of the weekend participation is available under these tickets: 45Eur supported/ 59 regular/67+ supporter ticket (external events not included)
Also individual formats can be visited seperately. They will be announced by themselves.
If you like what you are seeing and feel like joining this is a great idea, send a
PM to www.t.me/JoeJung
and we will find a fitting participation option